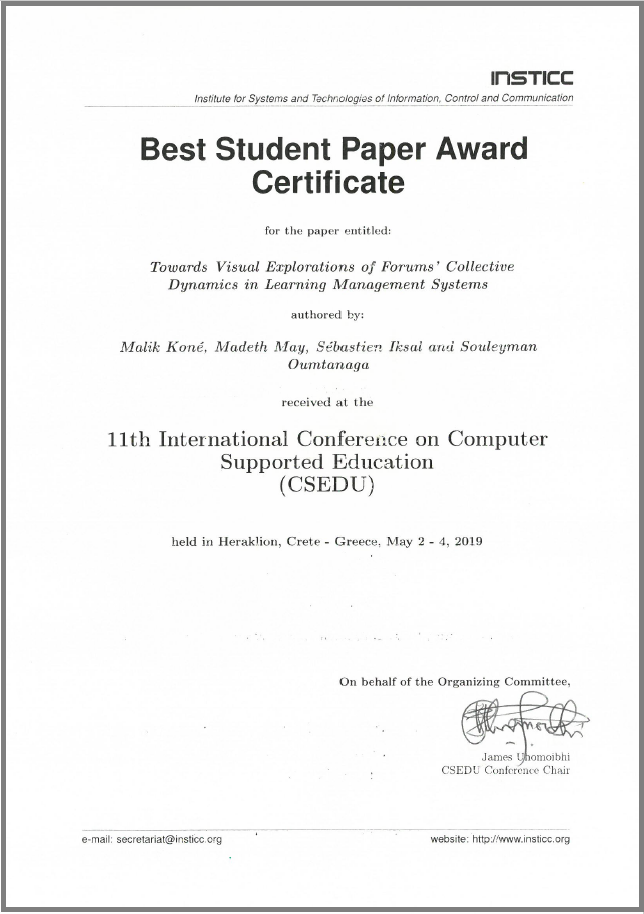 L'article "Towards Visual Explorations of Forums' Collective Dynamics in Learning Management Systems" a reçu le prix du meilleur article à la conférence CSEDU 2019.
Auteurs : Malik Koné, Madeth May, Sébastien Iksal et Souleymane Oumtanaga.
Abstract : Discussion and exchange among peers have being hailed as an essential part of learning since at least, Vygot-sky's socio-constructivist theory. There, learning is presented as a subtle and dynamical collective process. Hence, despite numerous efforts to understand how learners engage and maintain inspiring discussions, researchers continue to question how to effectively reinforce the collective actions. In Learning Management Systems (LMSs) they propose Learning Dashboards (LDBs) to learners, tutors, and managers to help them monitor various learning indicators. But only recently have they employed Natural Language Processings (NLPs) and Social Network Analysis (SNA) techniques to display temporal indicators incorporating the fo-rums' content analysis and the learners' behavioral patterns. In this study, we present our design efforts to model a scalable and portable indicator of collective actions. We aim to support tutors' monitoring of fo-rums' activities through explorable visualizations. We review previous researches about visual explorations of Forums' content and online collaboration's measures. We expose in progress visualizations built from three different datasets and propose directions towards further development of indicators to monitor collective actions.